Founded in 2017 by like-minded industry professionals, Liquid Process Solutions is a company focused on bringing quality products and innovative ideas to agriculture and industry.
We are based in New Zealand, evolving constantly in a small and unique market. Being 100% owned and operated by Kiwis, we know the NZ market and provide and extend our services to the whole of the south pacific region.
We use the world's most advanced pump manufacturers to build liquid transfer systems, supply pumps, macerators and aerators. Our solutions are reliable, economically feasible, and they add value to our customers' process.
Liquid Process Solutions is driven by cutting-edge technology and non-conventional techniques. By using our expansive industry experience, we pave the way forward by administering a practical, innovative and flexible approach.
We offer a full range of services from initial consultation, product selection, and in some cases, system design and construction. We tailor our specialist products to your exact requirements and then commission on-site to ensure your system is performing as intended and to its optimum efficiency.
Give us a call to find out more!
Rohan Kenny
DIRECTOR/SALES DIRECTOR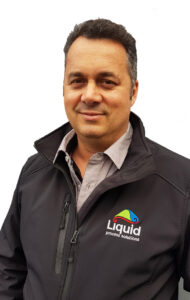 Rohan is experienced in pump engineering and has been trained by the industry, working his way from being a fitter to sales to area sales manager and now company director. He has been selling pumps in NZ for over 15 years and has an extensive customer base. Rohan has been involved in many innovative R&D pumping projects that he has managed from concept to completion.
---
Adrian Gardner
TECHNICAL SALES
After a 37 year career in technical sales, project management and an original trade as an engineer's pattern maker, Adrian has joined liquid process and brings his valuable engineering experience. He has worked widely in civil and building construction, liquid containment systems that has included pond lining, industrial tanks, and geo synthetics. He is proving to be very valuable to our customer base who regularly calls on his background to provide solutions to their installation challenges.
---
Wilo / Wilo EMU
Water management and wastewater product ranges
Nova Rotors
Progressive cavity pumps
Verderair
Air diaphragm pumps
Verdermag
Magnetic driven process pumps
Salvatore Robuschi
Centrifugal process pumps
Jump
Eccentric disc hose and sliding vane pumps
SCM tecnologie 
Aerators and aeration equipment
Techin Opera 
Food industry pumps, blenders and systems